Tuesday, August 22nd, 2006
Anna got her first gift today!  My receptionist Jackie and her daughter Hannah brought a beautiful picture book for Anna based on the song "All Things Bright and Beautiful."  Thanks, guys!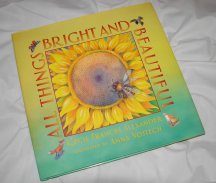 Of course, that's not all Anna has accumulated at our house. Her mama-to-be has been busily shopping for her, even though I don't know what size she's going to be when she comes home with us.  Below are some of the things I've picked up for her recently.