Thursday, August 24th, 2006
Anna received her first personalized gift today from Jill and her dog, Zebbie!  They picked out this cute little bear with Anna's name right on it!  Last week, I removed a couple of small tumors from Zebbie's skin, so he (and his mama) thanked me with this special little bear.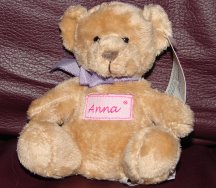 Joe and I just got home from attending a local summer stock theater production of "Miss Saigon."  It's an interesting show, with very beautiful music, but it doesn't have any of the sort of singable songs that I look for in a musical.  In other words, you don't walk out humming anything you've just heard.
 In contrast, I just finished playing in the pit orchestra for our local community theater's production of "Honk!", a very cute ugly duckling musical.  Some of those songs are so catchy that I'm still walking around singing them!  I suppose the fact that I played them through several rehearsals and four performances might have something do to with them being stuck in my head, but they're still fun music.  Congratulations to the St. Johnsbury Players for putting on a great show!