Tuesday, October 31st, 2006
We didn't get our consulate appointment today, but CCAI hopes it will come tomorrow.  So, we're still up in the air regarding our actual travel date.  We're still hoping for next week!  Our visas should arrive tomorrow, and the bank has our money ready, so we can go as soon as they'll let us!
We received a little update on Anna today, with new pictures!  Her hair looks the same as it did in the photos we received in early September, so I'm guessing they were taken about the same time.  She's such a little cutie!  Joe and I are so lucky to have a beautiful daughter.  We really don't deserve it, but I'm not complaining!
Her update states that "she can say many words and some 4-5 word sentences."  We're missing so much!  Get us over there!  "She seems to be more extroverted.  She is affectionate to her familiar persons.  She enjoys tricycle," (thank heavens Mom and Dad brought us one when they visited!) "playing with sand and musical toys.  She does not get fussy often and when she is upset, they will take her playing outside or give her some favorite food."  OK, how much in heaven can I be?  Musical toys!  My house is filled with musical toys!  "They call her Qin Qin and her neighbors like to call her Xiao Bai (little white).  Her favorite foods are candy, biscuits and ice cream."  Oh, she's going to fit right in.  Candy and ice cream?  I think we can oblige!  Her latest measurements at 18 mos are 80 cm tall (31.5 inches) and 10 kg (22 pounds).  Here are the promised pictures: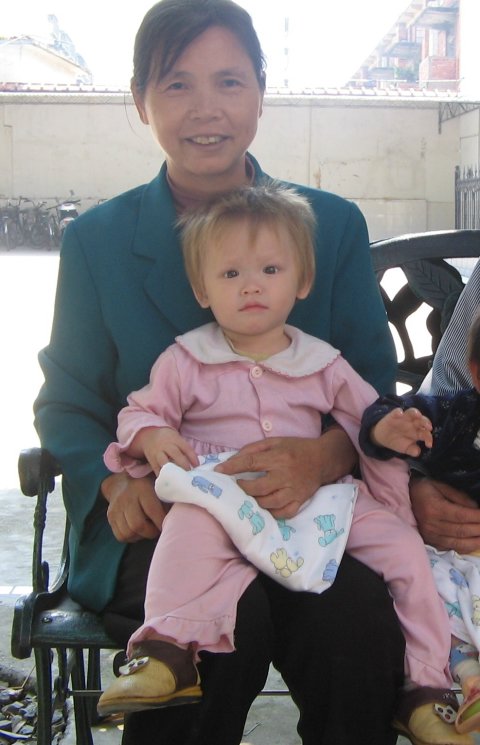 Look at her little toes sticking out of the hole in her sock!  It's a good thing I panicked about the socks!  I've got lots and lots of little sweat socks for her.  One of my staff members this afternoon remarked that it looks like she needs a more industrial grade sock.  I think I can fix that!  Anna, here we come!!!