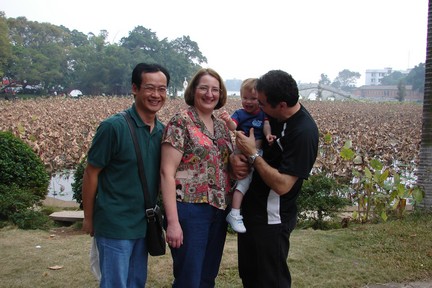 On our trip to get Anna, in October of 2006, we were met in Nanning by Michael Wei, a CCAI representative with many years of experience facilitating adoptions by CCAI families in the province of Guangxi.  We had arrived in Hong Kong two days before, and spent a couple of days sight-seeing in what we were to later understand was a very international, almost Americanized, city.  Guangxi was our first entry into the "real" China, where we were met at the airport by young Chinese emigration officers in military uniforms carrying machine guns, where no one spoke a word of English, and where the toilets consisted of holes in the ground.  Michael met us at the airport outside of baggage claim, gave us hugs, spoke kindly to us, got us to our hotel, explained in exhaustive detail how everything would proceed the next day, gave us a detailed, printed itinerary and guidelines on everything from how to tip our service people to how to change the huge amounts of money we needed to bring to the officials' offices from USD to RMB.  He settled us in our hotel, and told us to get a good night's sleep, because on the morrow, our lives would never be the same.
Over the next 5 days, he sat by our sides as we tried to hold a terrified, screaming toddler, and taught us everything from the way to take her to the potty, to what kind of food she might actually eat for us.  He took us to buy her diapers, and toys, helped us feed her dinner, took us to see the place she was found on the street outside of the orphanage in Guigang, guided us through all the official paperwork, and sat with us as the provincial officials questioned our sincerity and worthiness to take this precious little life out of their country and raise her in a loving home.
We absolutely could not have managed to survive that first awful week with our new daughter without Michael's kind and caring guidance.  Two middle-aged people with no parenting experience really had no business trying to do that, but he made it possible.  His experiences facilitating hundreds of adoptions for CCAI in Guangxi province made him an invaluable resource, mentor, and friend for us.
I learned yesterday afternoon that Michael entered the hospital suddenly last Friday, and died Monday morning of a cerebral hemorrhage.  His loss is almost inconceivable.  Our lives were enriched beyond measure with his assistance.
He leaves behind a wife, who is an engineer, and an 8 year old son, who hopes to enter medicine or engineering.  Or at least he did 2 years ago, when he was 6.  Michael talked often and proudly of his son, and I know all the time he spent with us all day long, and often in the evenings, was time his son didn't get to have him to himself.  At least at 8 years old, he will have memories of his father, and I hope he knows just how important his father was to so very many American families.
CCAI has established a memorial fund to help support Michael's wife and son, and ensure that his son receives the professional education he will need in today's capitalistic China.  We will be contributing to this fund, and invite anyone who is interested to do so as well.  Please visit CCAI's Charitable outreach page here, and designate the Michael Wei Memorial Fund as the "specific project" for which you are making your donation.