Tuesday, July 14th, 2009
This evening, after I picked the kids up from day care, I was heating up dinner, and Anna started talking about wishing she had a pony.  I told her I thought most little girls wished they could have a pony.  She then told me that if she could find a genie, she could have all the wishes she wanted.  I don't have any idea where she heard about genies, but they seem to find out about such things despite my best efforts.
So, I asked her if she would be willing to share her genie with me if she happened to find one.
"Sure, Mommy.  What would you wish for?"
"I would wish for my little girl to grow up to be happy and healthy, and smart AND wise."
She thought for a couple of minutes, then she replied,
"I wish we could be best friends forever!"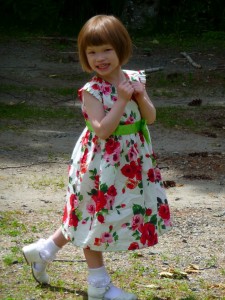 _I_ wish I had that recorded so I could play it back for her when she's 14 years old, running to her room, slamming her door, and yelling, "I hate you, Mom!"